One last hurrah for the mullet dress. Not sure why I've stayed hooked on this trend, but for some reason I just like the style. Burda seems to be in agreement with me because they throw a mullet pattern out there every once in a while…I'm sure just for me. So since I've been indulged, I thought it my duty to craft this one from the BurdaStyle magazine August 2014 issue, pattern 116.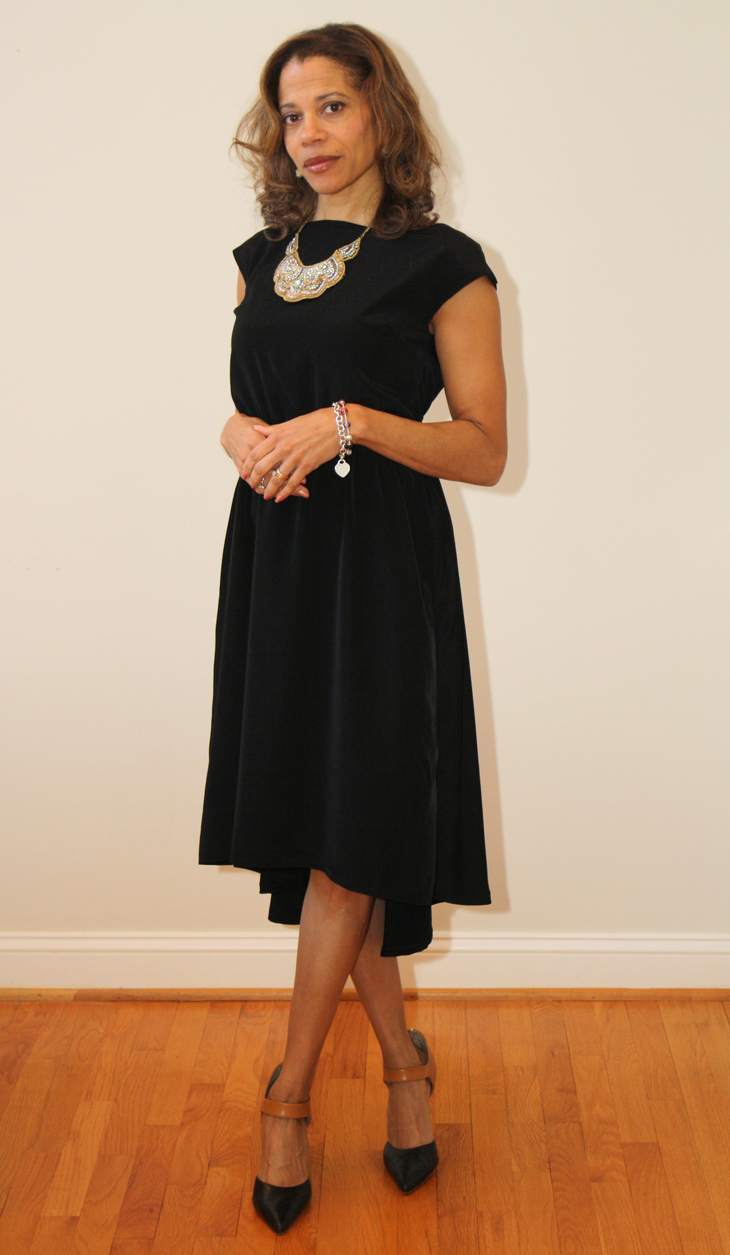 It was love at first site when I saw this dress. Sweet, with a dash of flirty. Right up my alley. 
Though I am a fan of the BurdaStyle magazine, one of the keys to managing my expectations is to look VERY CAREFULLY at how pieces are presented and worn in the layout. If it looks boxy, trust me, it be will boxy. If it voluminous, it will be voluminous. So eyeing this with extreme scrutiny, I could see straightaway the fit through the back upper bodice had to be snug and the front bodice can't be too drapey over the gathering as you would anticipate. Otherwise, the dress will look frumpy. Also, a front view isn't presented so you don't see that this is a very straight and high neckline so you can either alter it or decide if it's flattering as is. Fortunately, I was fine with it and didn't feel like re-drafting…are rare thing for me. The "back decollete" as Burda describes it, is demure enough. Also, both pictures of the dress are taken from the side with the mullet flowing as if caught gently by the wind. Hmmm. This made me think on fabric selection, something opaque enough yet lightweight, especially since I won't be twirling about anytime soon.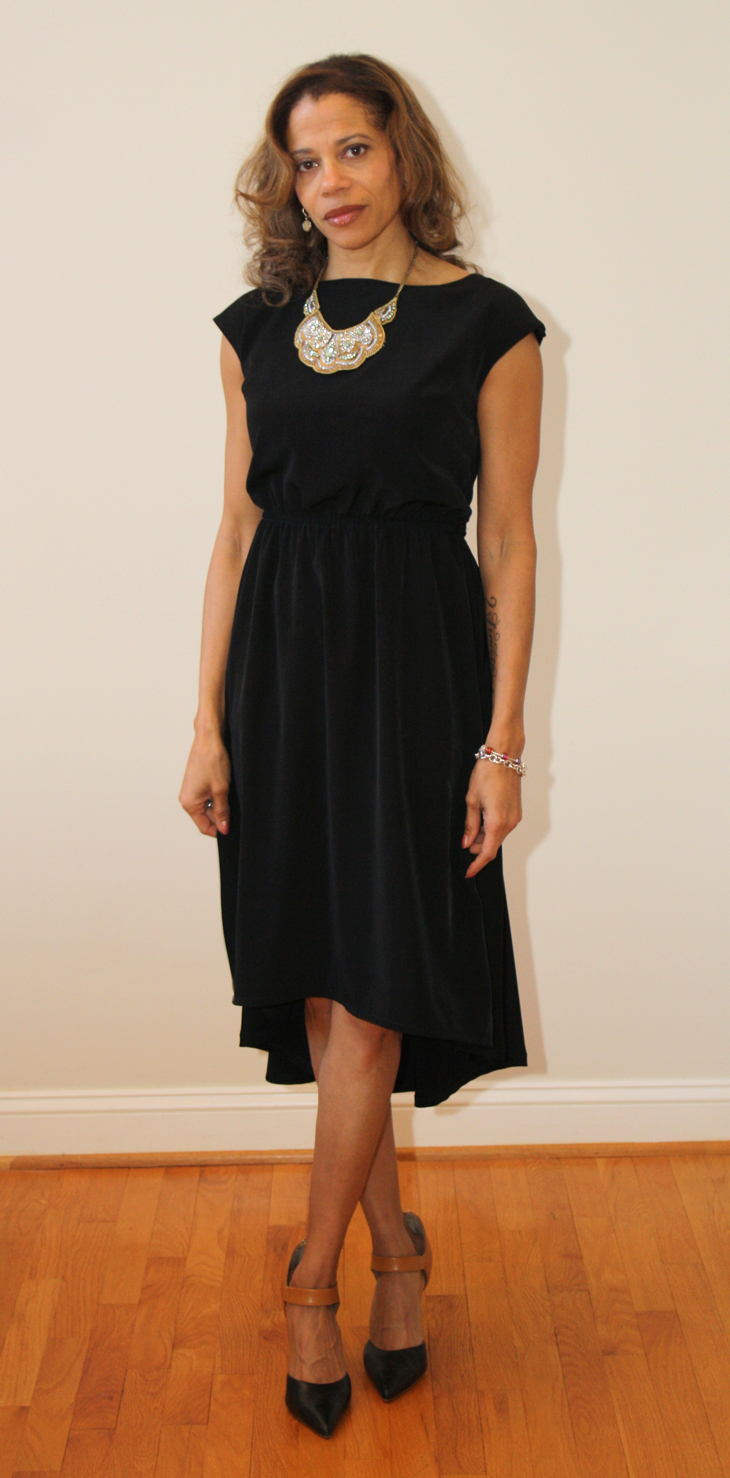 The fashion fabric I chose is the same synthetic I've used before to make Track Pants. The lining (bodice only) is a simple acetate.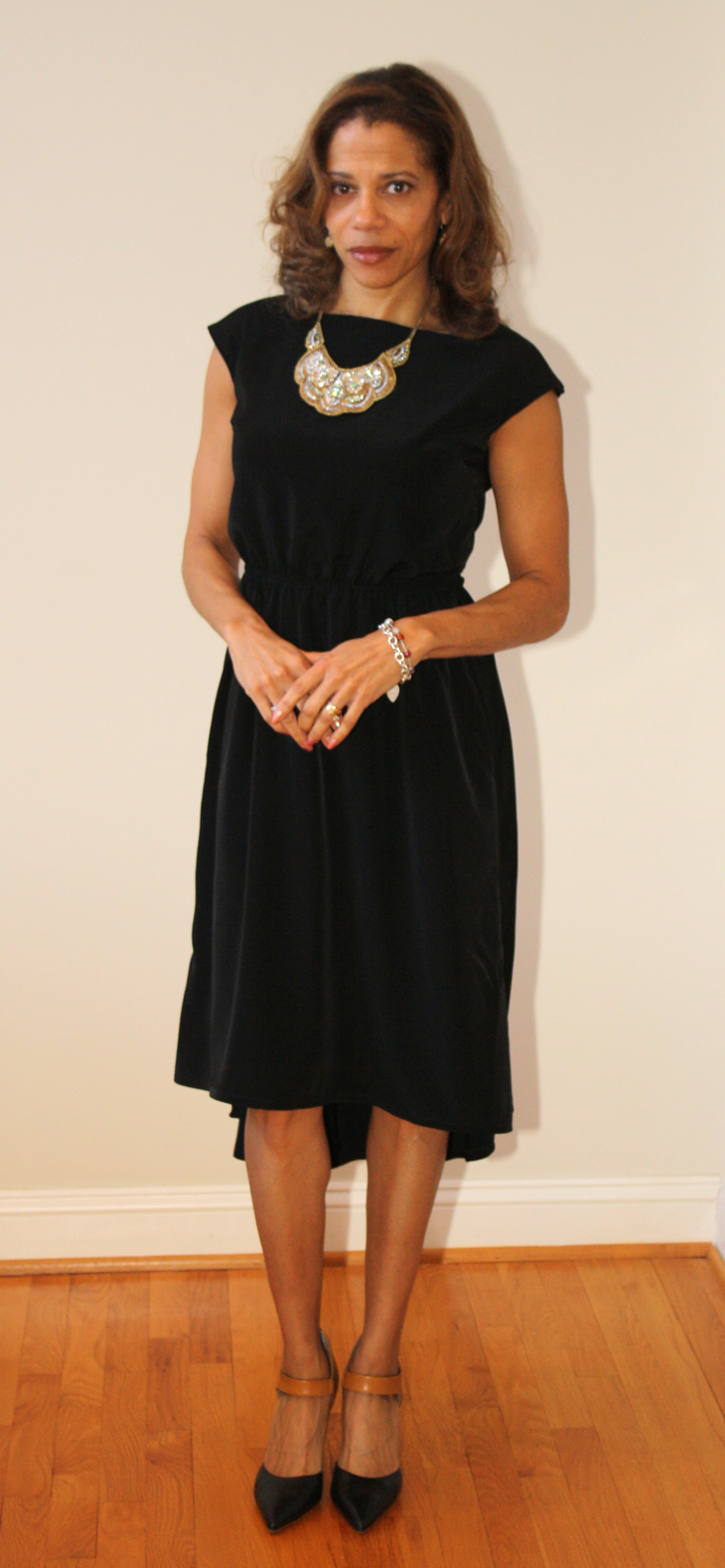 As for construction, it was really quite easy. However, those instructions…somewhat confusing and unfortunately, this time, incorrect. Oh, Burda, why do you not invest in quality control for your content. I cursed a good deal because they had me scratching my head. It was only when I just dumped them and read a few reviews did it don on me that possibly…God forbid…the instructions were wrong. It's at the casing insertion. You don't sew the ends of the elastic together. I managed all the same.
Once you begin construction, there really isn't much of an option to go back and fit, so a muslin is a must for fitting through the upper bodice and crafting a pleasing neckline. The waist is gathered so you're off the hook there.
CONSTRUCTION
No major construction issues.
ALTERATIONS
None. I sewed this as drafted.
I cut the size 38, but I could have easily cut the 36 or 34 as it is generous sizing.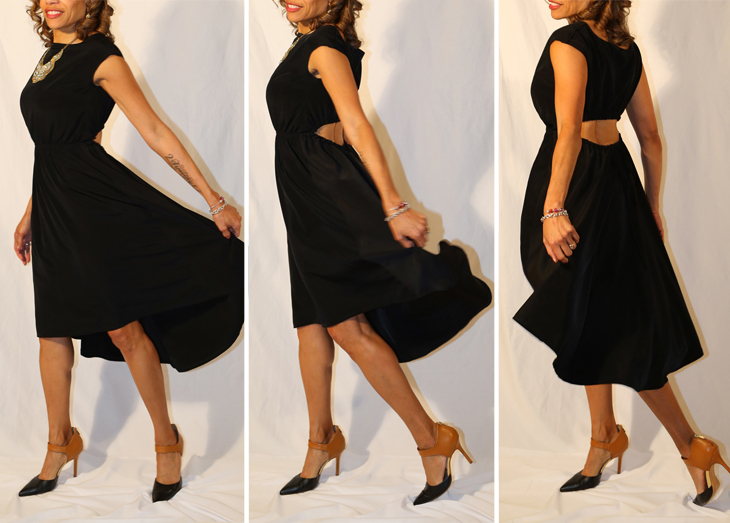 Overall, pleased. Burda's drafting is always pleasant to me. I love how the back looks, but it does have limited wear as I can't think of a ton of occasions I will wear this. Dinner out with hubby would be a start.