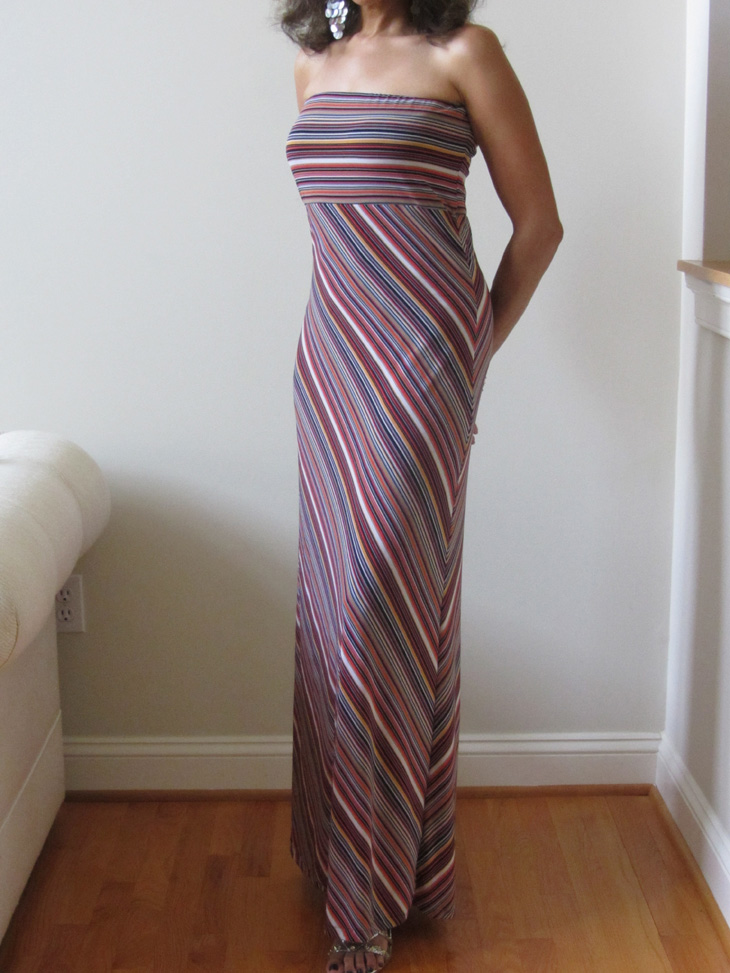 This was my last summer hurrah. I have always loved the maxi dress or anything that lengthens and leans the body. I'm also an avid fan of stripes. Wide, thin, pinstripe, I love them all. So I combined the two using a G Street Fabric clearance bin knit.
Now I already had in mind the dress I wanted, but couldn't find a suitable pattern. Like any good sewist hellbent on having her way, I drafted the top and stole the bottom from somewhere else, Simplicity 2580. The bodice is fully lined and the skirt is lined to the knee, both with black tricot which is quickly becoming one of my favs.
To draft the top, I simply took key measurements at my high bust, full bust and waist. I then used that as the basis for drafting the two-piece top. I subtracted about 1″ – 2″ from the circumference to get a snug fit. I probably could have taken the sides in more because there is some extra room in the back. I decided that the dress looks fresher if the bodice length stops just under the bust. It was more flattering to my figure. To line the bodice, I duplicated the above using the black tricot and 1″ wide non-roll elastic sewn to both lining and knit fabrics.
Also, I elected to cut the skirt on the bias which enhanced the drape. IMO, this makes the bottom of the dress flare ever so slightly and therefore is more pleasing to the eye.
For the hem, as with all knits, I left the unhemmed dress on my mannequin for well over 24hrs to allow the fabric to relax to it's full length. I serge-finished the edge and took a 1″ hem.
I'm pretty happy with this dress. It's comfy and I've worn it on a few occasions, dressed up and dressed down. My mental editorial process on this dress would be to take up some of the slack in the bodice and waist, but other than that, I'm well pleased.